Education
Bryn Tirion Hall School is an Independent School for boys and girls aged from 7 to 19 years. The pupils who attend have a range of additional learning needs from social and emotional to ADHD and ASD, some may have complex needs. The school is accommodated in a rural area between the towns of Mold and Wrexham in North Wales.

Our education provision is founded on one simple concept - 'Change By Choice', which is the capacity for every individual to find alternative pathways to success. Pupils, staff, families, carers and the communities that we operate in are encouraged to grow and learn together in an atmosphere of cooperation, understanding and tolerance.

At QEwC, we promote learning for life and provide a level playing field, because the challenges of our pupils' past or present should not obstruct the opportunities that could transform their futures.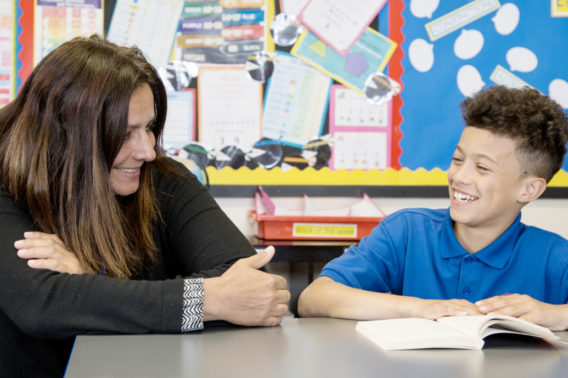 Education
Change by Choice
The ability to change for the better shouldn't be left to chance. That's why we aim to equip our young people with the tools they need to make the choices that will drive positive change in their lives. We offer a varied curriculum that is accessible regardless of barriers to learning, as well as being challenging and personalised to each pupil's specific needs. This is delivered through an innovative curricular offer designed to develop resilience, risk management and teach independence, as well as improve social skills and employability.
Creating Positive Futures
Our dedicated and innovative education practitioners provide a calm, safe and supportive environment, where pupils feel important, valued and in control of their own futures. Motivated by delivering the best outcomes for all of the young people in their care, our education team works alongside a Pastoral Support Team and expert Therapy and Psychology Team (TaP Team), which includes Speech, Language and Communication Therapists, Occupational Therapists, Educational Psychologists and Psychotherapeutic Counsellors.
Partnerships Between School and Home
As a family-run business, we believe that education has the greatest impact when there is a partnership between home and school. That's why we champion close cooperation between all members of our community.
Notes from our Young People, Parents & Care Professionals
At QEwC, we embrace innovation, finding different ways to help our young people achieve their full potential, where all previous and traditional routes have failed.
"This isn't like a normal school. They treat you differently here and we all try and work together. As well as GCSEs we get to do work experience and also life skills, so you know what you need to do when you leave school."
Year 8 pupil
"I feel young people flourish in Bryn Tirion Hall. One young man who has only been there five months is like a changed person."
LAC Nurse
"I never thought my son would ever go to school until he got a place in this school. Since then he is loving school and really doing well. I can't thank everyone enough."
Parent
"This school has been much better for me than other schools. The staff have helped me to deal with my anger through learning to communicate more and understanding the consequences of my actions. I also like that pupils have more input in what the school does, through things like the Pupil Leadership Teams."
Year 7 pupil
"I loved camping and  EL, it's amazing and fun. I went paddle boarding, abseiling and climbing and we went for 1 night and 2 days. I'm really proud of myself because I done abseiling. I got a bit upset but when I was half way down I loved it. Thank you Nicky and Wardy."  
Teacher
"What made you change your mind and walk through your fears?"
Year 7 pupil
"I never gave up and I just closed my eyes and started walking backwards."
Year 8 Pupil
Trans talk. "Today a woman came in to tell us about Trans issues and stuff like that. She talked for like an hour and I thought it was really good because more people need to be aware of it. She gave me some advice that might come in handy later."
Feedback from Careers Day 2019
"Thank you for inviting me to yesterday's event. I found it to be a truly inspiring morning. It was an absolute pleasure to meet your students, who worked so hard in the activity. They were a credit to themselves and the school. I can imagine that for some, meeting and speaking with new people is a real obstacle and they did brilliantly. The feeling of warmth, mutual respect and community within the school really struck me. I feel privileged to have been part of your day."
Beth – Lecturer Chester University
"Firstly can I say how much I absolutely loved my involvement in this and thank you for including me in such a great initiative. Secondly may I pay a compliment to the kids and how well behaved they were, and a delight to engage with. Please also pass my thanks onto them as individuals for making my time at the school so enjoyable and I hope I was able to present myself and the work I carry out day to day, to them in a way that will promote positive views of my role, North Wales police and the organisation as a whole. Thirdly, last and not least please also thank the staff for making me feel welcome and comfortable in the environment. I can tell everyone there is passionate in their work and has a level of skill, knowledge and patience in their approach to their work that is clearly reflective in the level of respect, attitude and behaviour shown by the kids towards them and us as the visitors."
Gaz – Cwnstabl Heddlu / Police Constable
The Princes Trust Wales
"Really enjoyed working with Bryn Tirion Hall today as part of the Princes Trust Wales in in Wrexham. An absolute wonderful group of young people."
Steven Williams
"Since my son has been at Bryn Tirion the difference in him has been amazing at home and school, he is happy to go to school every day and always talks about the great things that he does, he has been on amazing school trips and he has learnt how to socialise with others. I cannot praise this school enough for the difference they have made to our family life."
Parent
"Regarding my recent visit I was really impressed how well the pupils engaged with the lessons I delivered but also with myself . Nice to speak with Will and offer him some advice and support about entry options into the police cadets."
Cwnstabl / Constable 2195 Stuart Reeves
Swyddog Heddlu Cymunedol Ysgolion / School Community Police Officer
October 2020 – Pupil Annual Statement Review – the Local Authority expressed how much progress the pupil had made since being at Bryn Tirion Hall School and gave testimony to all those who work with him. The pupil's engagement in work experience, college and classes are above and beyond what was expected.
 Mum also said that she believed the pupil wouldn't be where he was now without Bryn Tirion Hall School.
 Well done to all those involved teaching and supporting the pupil!
Parent
'I cannot believe how much he wants to be in school as this has never happened before'.
Our Education Provision
100%
of school leavers over the past three years have gained recognised qualifications in accredited courses.
100%
of pupils in the last three years left the school with an offer of a college placement.
96%
of Quality Education with Care (QEwC) school staff believe they are treated fairly at work.
100%
of parents would recommend this school to others
89%
of parents/carers of new pupils this year said the school was better than they had expected it to be.
11%
of parents/carers of new pupils this year said the school is what they expected it to be.
Get in touch
If you have a question about our school or if you'd like to arrange a visit, why not get in touch?
We welcome visits from parents, carers and local authorities, just complete the form and one of our team will respond within 24 hours.