Education
Bryn Tirion Hall School is an Independent School for boys and girls aged from 7 to 19 years. The pupils who attend have a range of additional learning needs from social and emotional to ADHD and ASD, some may have complex needs. The school is accommodated in a rural area between the towns of Mold and Wrexham in North Wales.

Our education provision is founded on one simple concept - 'Change By Choice', which is the capacity for every individual to find alternative pathways to success. Pupils, staff, families, carers and the communities that we operate in are encouraged to grow and learn together in an atmosphere of cooperation, understanding and tolerance.

At QEwC, we promote learning for life and provide a level playing field, because the challenges of our pupils' past or present should not obstruct the opportunities that could transform their futures.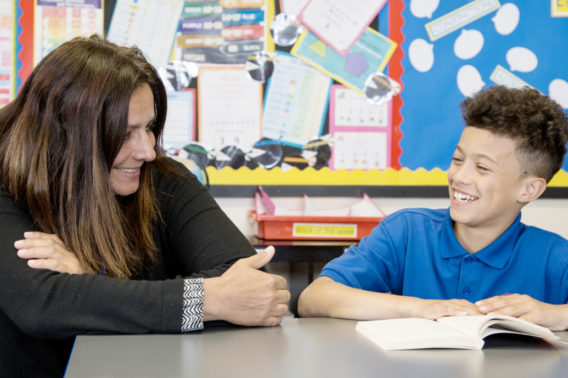 Therapy & Psychology Team
Bryn Tirion Hall School has a dedicated Therapy and Psychology (TaP) team, which works with school and care staff to deliver staff training and support, as well as working with individual students.
All Health and Care Professions Council (HCPC) registered, the TaP team is a 'critical friend' to Bryn Tirion Hall and part of the multidisciplinary team here. It works strategically, promoting and supporting school development and maintaining its Professional Standards and Ethics.
The TaP team aims to implement evidence-based programs and interventions and is committed to continuing their professional development.
Speech and Language Therapist: Debbie Parry
Debbie more than 20 years' experience working with children and young people who have complex communication needs.
Working directly with individuals and families/carers, she devises individual intervention plans and programmes. She has worked as a senior, specialist Speech and Language Therapist (SaLT) and has experience in setting up services and working at strategic and operational levels. She has also spoken at conferences and devised and delivered bespoke training for families, carers, professionals and voluntary organisations.
Communication is a fundamental skill that impacts on all areas of life. All students' communication skills are screened by school staff when they join they school. If required, Debbie will be involved in assessing a student's understanding and use of language, speech and social interaction, as well as communication skills. She also works with individuals or groups of young people to develop their skills too, as well as supporting staff on this same mission.
Occupational Therapist: Sophie Brummell
Sophie qualified as an Occupational Therapist in 2012, specialising in Paediatrics. She joined Bryn Tirion Hall School Team in September 2017. She works both with children on an individual basis at the school and provides staff training.
Sophie is passionate about offering an excellent standard of service to children, young people and their families/carers, providing ongoing training and support to key individuals in the young person's life. Sophie has a special interest in Autism, Child and Adolescent Mental Health and Sensory Processing Disorders. She also completed her module three post-graduate training in Sensory Integration, qualifying as a Sensory Integration Therapy practitioner in January 2018.
Occupational Therapy enables people to participate in daily life and improve their health and wellbeing.  Occupations for children or young people may include self-care (getting ready to go out, eating a meal or using the toilet), being productive (going to school or volunteering) and leisure (playing with friends or enjoying hobbies).
Educational Psychologist: Dr Dan Small
Dan has extensive experience of work with various Local Authorities across the UK. He provides consultation, assessment, training and intervention at Bryn Tirion Hall to support learning, wellbeing and behaviour.
His time is split between working with staff to develop capacity and working with individuals or small groups of young people. Dan joined the Bryn Tirion Hall School team in September 2018. He graduated in Psychology 2009 and completed a Doctorate in Educational Psychology in 2016.
Get in touch
Whether you're a parent or carer with an enquiry, or a specialist children's care or education professional wishing to make a referral, we'd love to hear from you. Simply complete the form below we'll be back in touch. If your message is regarding a referral one of the QEwC team will respond within 24 hours.